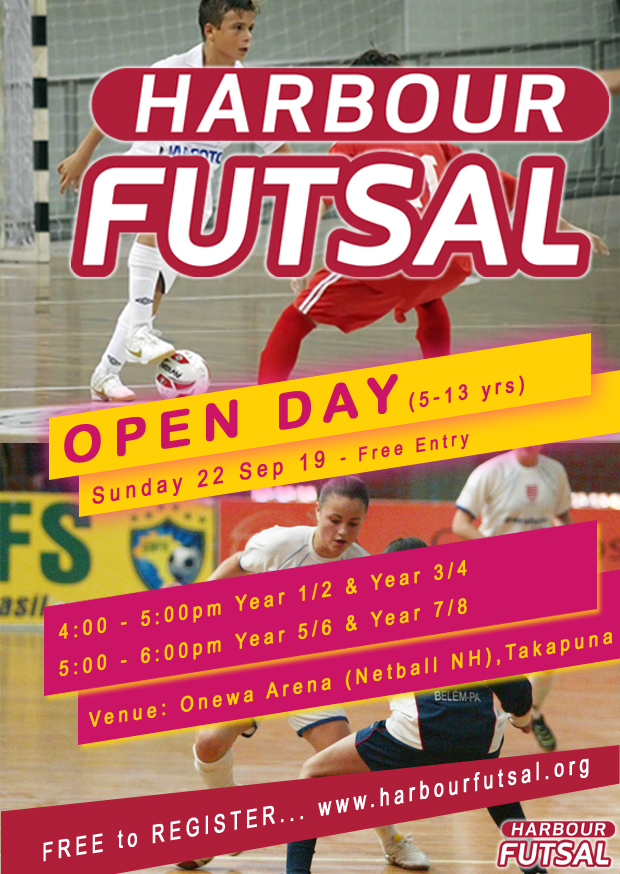 Open day
Harbour Futsal Open Day
Sunday 22 Sep
Session 1:  4:00 – 5:00pm  Year 1/2 & Year 3/4
Session 2:  5:00 – 6:00pm   Year 5/6 & Year 7/8
Venue: Onewa Arena (Netball NH), 44 Northcote Rd, Takapuna
Prizes & Giveaways on the day!

Your child will love the energy, speed & pure excitement of playing Futsal.
Futsal is one of the world's fastest growing sports with Youth & Senior World Cups, Professional Men's & Women's Leagues (Brazil, Spain, Italy & Russia)& is n track to become an Olympic sport!
Harbour Futsal is running an exciting Harbour Schools League competition (Year 1 – 8) in Term 4.
So that North Shore kids are able to enjoy playing Futsal for their School in the Harbour Futsal Schools League.
What to wear: indoor court shoes (No black soles) bring a water bottle.
See you on Sunday.