Harbour Futsal
Click on the Schools League or Metro League logo to find out more...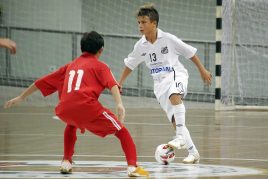 Sundays
Onewa Arena, 44 Northcote Rd, Takapuna; New Leagues Every Term
FUTSAL vs FOOTBALL (outdoor)
Source:  Futsal World Cup 2008 & 2012
WHY FUTSAL?
Futsal '5 v 5' is an indoor 'court' sport. Futsal comes from the Portuguese phrase "futebol de salão", which can be translated as "hall or gym football". The faster surface, the low bounce ball and clean, non-aggressive contact rules create an emphasis on improvisation, creativity, technique, ball control and passing in small spaces and dramatic action – all game long. Futsal players are more exciting, use more technique & are more creative than soccer players.